Who doesn't love to go on Sunday picnics? But with the chilly weather, who can stand staying outdoors?
Don't worry! By making this Bobble Stitch Crochet Shawl Pattern, you'll be able to enjoy the chilly outdoors!
It's so easy to make, you can finish the whole project in one weekend!
Since it's picnic season again, you have to checkout how to make this pattern by reading through this article.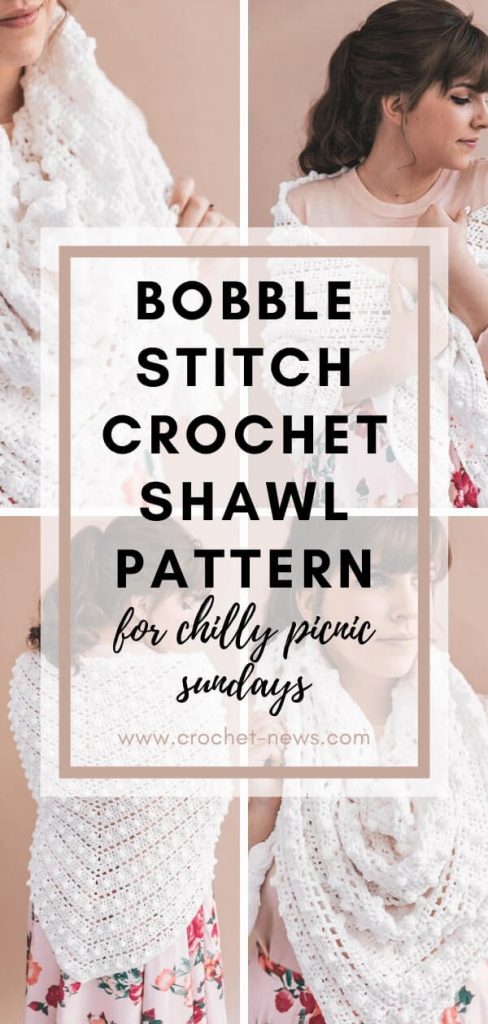 Cozy Crochet Shawl Pattern
Brrrr! With the picnic season upon us, you wouldn't want to be left indoors just because you can't stand the chilly weather, right?
Well, Sewrella made this crochet shawl pattern that can definitely help you out! It's big enough to wrap around your shoulders and you can even use it as a scarf around your neck.
Go out and enjoy every Sunday picnic you'll be invited to this season! Get your yarn and hooks out and prepare for a weekend of crocheting! 
About the Yarn
With this crochet shawl, you gotta have a yarn soft enough so you can wear your shawl for a long time. You want to have a great time at your picnic right? Of course you don't want to be uncomfortable wearing this shawl.
It's great Lion Brand has a yarn perfect for this shawl. The Lion Brand Feels Like Butta Yarn is so soft you'd never think it's made from polyester! 
They even have a wide array of pastel colors for babies and fashion palette for adult garments too! It's definitely a yarn worth trying! 
About the Pattern
Save a weekend before the picnic season and make time to crochet this pattern. It's so easy to make this scarf and you can use it in any season!
Making a triangle shape and working a 4 row repeat to make the shape larger doesn't sound so hard right? The pattern uses bobble stitch that's why it's targeted for the intermediate crocheters.
Maybe you have already mastered the basic stitches and want to try something new? The pattern included instructions on how to make the Bobble Stitch so it's sure to help!
Are you ready to accept the challenge? Prepare for all the Sunday picnics you're gonna attend by making this crochet shawl pattern!
Skill Level
Intermediate 
Materials Needed
Soft Yarn – Lion Brand Feels Like Butta Yarn
Hook
Stitches Used
Single Crochet
Double Crochet
Bobble Stitch
Chain Stitch
Slip Stitch
You'll never have to turn down picnic invitations just because you know you'll get cold! With this crochet shawl pattern, you can now beat the chilly Sunday weather.
If you're looking for other patterns you can use on your picnic Sundays, check more patterns here: Free Crochet Blanket Pattern, Princess Crown Crochet Placemat, other Crochet Blanket Patterns.
Prepare for your Sunday picnics by making this Bobble Stitch Crochet Shawl Pattern!