Are you a mom nervously waiting for your baby girl? Thinking of activities to relax your nerves while waiting for her birth?
Great news! I have the perfect activity for you. How about making this adorable Crochet Headband Accessories Pattern as a gift for your little one?
You can even make one for yourself for a subtle twinning with your new baby girl!
Find out how to make this Crochet Headband Accessory by reading through this article.
Dainty Crochet Headband Accessories Pattern 
This old rose crochet headband with intricate details is created by Monpetitviolon. Aside from accessories, she also creates hats, bonnets, baby clothes, and even crochet slippers!
Her light and pretty color palettes are to die for, the perfect color palette for your little girl and for moms like you too! Some of the patterns come in adult sizes too, perfect if you want those twinning moments with you baby.
It's really a pleasure going through her products and seeing all her detailed works! Intricate and dainty, you will surely find something soft and comfy for your baby girl. 
About the Yarn
Because of all the intricate details needed for this pattern, using a fine, cotton yarn is suggested. The Camilla Cotton, a 100% mercerized cotton yarn, is one the best yarns to use for this project. It's also safe for your little ones since it is soft. 
With this silky and vibrant Camilla Cotton yarn, you'll have lots of colors to choose from! Their choices of light color yarns is perfect for dainty patterns like this one. 
Since it is a mercerized cotton yarn, you'll never have to worry about your accessory losing its vibrancy. These kinds of yarn are known to retain their colors and lasts longer than those made with non-mercerized materials.
Thinking of using a thicker yarn? Keep in mind that using thicker yarns will affect the size of your headband. The thicker the yarn, the bigger your output will be.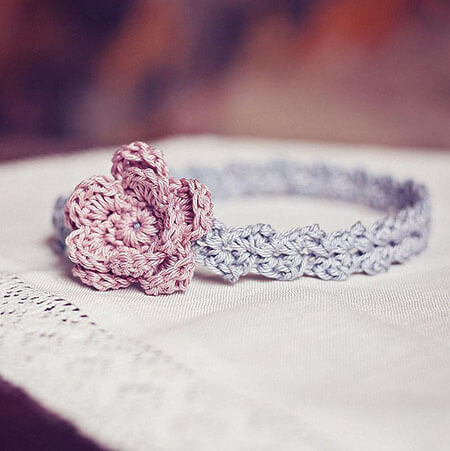 About the Pattern
With its fine, intricate designs you might think this pattern is for the more advanced crocheters. But guess what? This pattern is actually easy to make and easy to follow! 
The dainty details are made using simple stitches only. To make it more beginner friendly, the pattern has detailed instructions and step by step description accompanied with photos. You will surely never have a hard time understanding how to work on this pattern. 
Aside from the details, the color palette of this pattern makes this old rose headband accessory standout. It has just the right amount of contrast that helps the adorable rose pop from the headband. 
For the perfect twinning moment with your little girl, create two versions! A small one for the little one, and an adult sized one for you. 
Skill Level
Beginner
Materials Needed
Small amount of yarn in two colors – Camilla Cotton
Crochet hook 3.25mm (D)
Thread
Needle
Stitches Used
ch – chain stitch
dc – double crochet
tr – treble crochet
sc – single crochet
sl st – slip stitch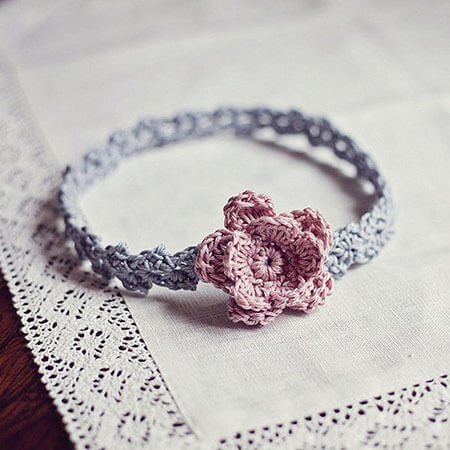 With this quick and easy pattern, working on this while waiting for your little one will surely not stress you out. 
Check out more baby patterns like this cute baby booties crochet pattern, crochet baby gift set, and other baby themed crochet patterns. 
Calm your nerves and start working on this special gift for your little girl. This old rose crochet headband accessories pattern is a perfect welcome surprise for the little one!