Do you need a great gift for a child? Or your friend who is young at heart?
This crochet dog pattern will fit the bill for certain!
Crocheted in soft, fuzzy yarn he definitely earns his aptly named precious and irresistible puppy.
Find out more about this wonderful pattern and the fun yarn used to create it by continuing to read through the following article!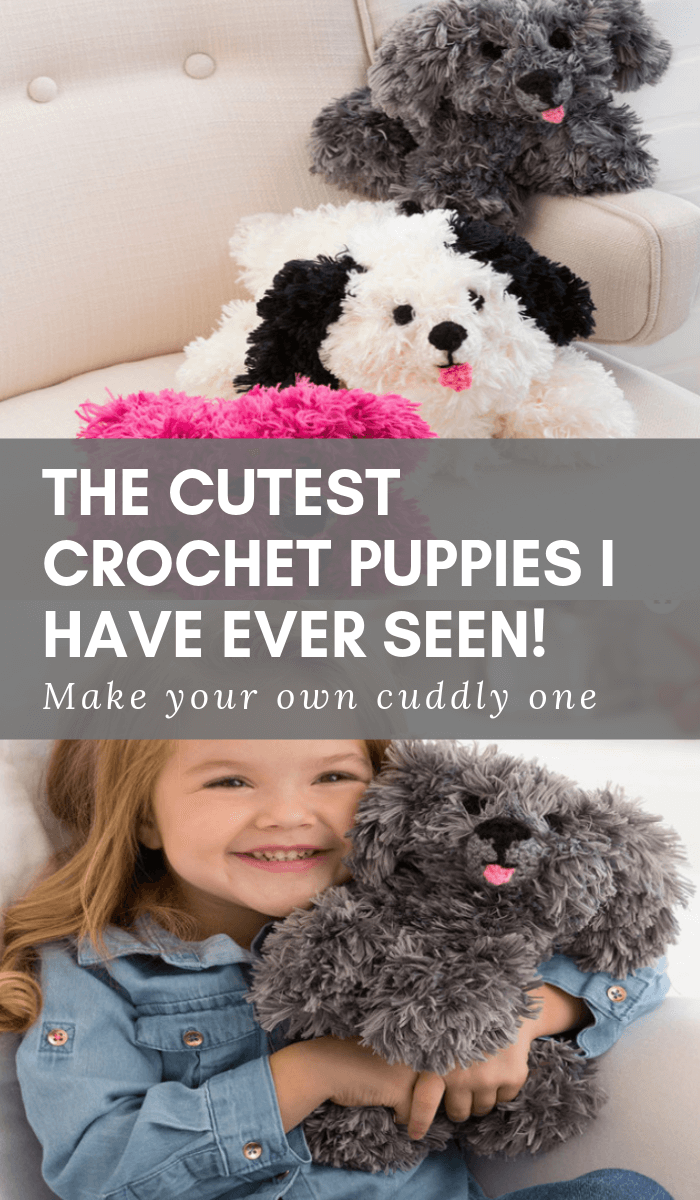 Adorable Crochet Dog Pattern
Designed by Michele Wilcox, the adorable puppy pictured above is crocheted using a specialized yarn, is tiny and easy to take along with you. If he gets dirty, he is also washable!
Great for gifts for all ages and all genders! He works wonderfully for birthdays or to wish someone to get well. You could make one up in a bright color to keep a loved one company in the hospital, or in their room at a nursing home. HIs small size makes him very versatile.
Since he is small, soft and has crocheted eyes and nose, he also makes a great gift for a baby shower or a small child.
The eyes and nose are crocheted making this little guy great for small children.
About the Yarn
This crochet dog pattern is worked using Red Heart Boutique Fur, which comes in 8 colors.
It can be a bit difficult to find, but online is probably your best bet. I was able to find it a few places online, except for the Red Heart store itself.
Perhaps there are similar yarns to this one in other brands.
This pattern works up fast and easy with this yarn, which is surprisingly easy to use and very forgiving. Also, it doesn't shed!
About the Crochet Dog Pattern
Skill Level
Easy/Beginner
Gauge
You won't need to worry about gauge with this project.
Materials Needed
4 balls of fun yarn–if making a single color dog, you will need 4 in one color; if making a two-color dog, you will need 3 of one and 1 of the other color
Worsted weight yarn–black, white and light pink (small amounts only)
Crochet Hooks–US Q (16 mm) and US G-6 (4 mm)
Stitch Marker
Yarn needle
Fiberfill stuffing
Finished Size— 13″ long
The pattern is written in row by row instructions
Stitches Used
Chain
Single Crochet
sc2tog (single crochet two stitches together)
Sewing
How to Work sc2tog
To work the special stitch whenever you see "sc2tog"–
(in the next stitch, insert hook, yarn over, pull up loop) two times, then yarn over again, bring hook through all 3 loops that are now on your hook.
This is a great to practice your skills and finish with an adorable puppy for yourself or to give as a gift. Stock up on some fur yarn and make up several of these little guys to have on hand for gifts. There's no way he won't bring a smile to anyone's face! Time to grab your hook and get started on this adorable, fun and easy crochet dog pattern!