Hey there new mom! Do you have a newborn little one and thinking of what crochet project to make for him?
Ohh this Free Sleep Sack Crochet Baby Pattern is just perfect for new moms like you!
Read through the article to learn how to make a comfy and snuggly sleep sack for your new baby.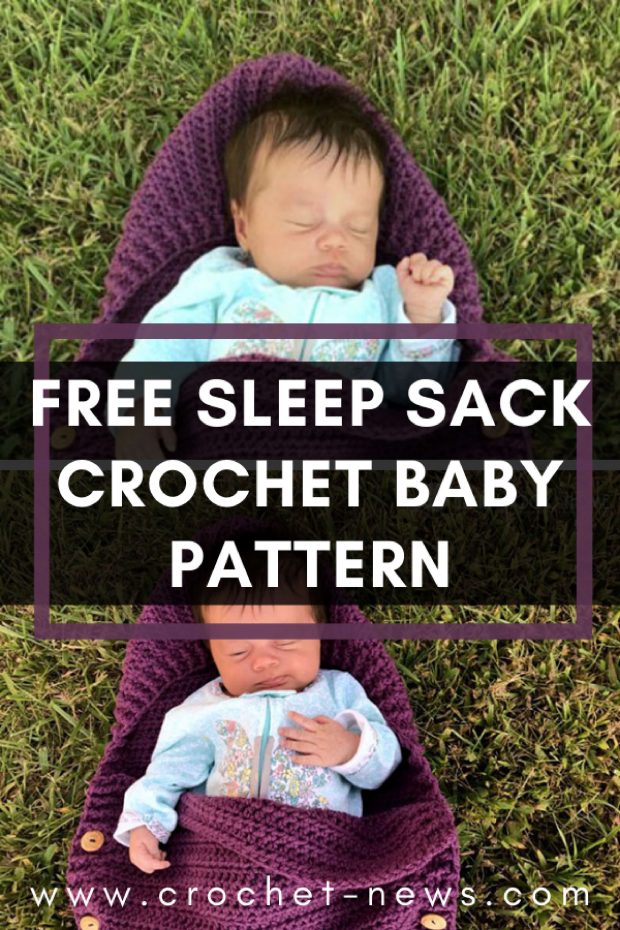 Newborn Sleep Sack Crochet Baby Pattern
As a mom herself, Ashlea Konecny of HeartHookHome totally understands what new moms and fellow yarn enthusiast need for their newborns. HeartHookHome made this free snuggly sleep sack crochet baby pattern perfect for your little one. 
Choose the color that best fits your baby! The suggested yarn for this pattern comes in a lot of solid colors, and in ombre too. You'll never have a hard time looking for color that best matches your little one. 
Fairly easy to make and quick to finish, it's perfect for moms who are usually busy tending to their babies. Why not spend your down time making a little something for your newborn using this pattern?
About the Yarn
Since this pattern will be used by your little one, you have to make sure the yarn you'll be using is soft and safe for them! The Hobby Lobby I Love This Yarn! fits this description perfectly. 
Made with 100% manufactured fibers, this acrylic yarn can be used in anything, from scarves, bags, afghans, and yes, baby blankets too. It's soft enough and perfectly safe for your newborn. It's also great to know that you can this yarn is machine washable. No need to worry about those baby accidents. 
With this yarn, you'll have lots of solid colors to choose from. But if you want to make the pattern a little more interesting, you can also use an ombre color that's readily available for this yarn. 
Choose your yarn color and ready yourself for another fun filled crocheting!
About the Pattern
Because it uses a few non-basic stitches, this free pattern is for intermediate crocheters. Made with rows and rows of half double crochet stitches and a few half double crochet two together, this pattern creates a long rectangular blanket sewn together at the top to form the hood. 
After the whole blanket is done, you can now work on creating the edging of the blanket. You'll work on each row up to the hood and down the other side. With the edging done, you'll have to fold the blanket up and position the buttons. 
The buttons will act as the closure of the blanket. Make sure the button you'll be using will fit through the holes of the edging you created! With the buttons in place, you have now created an adjustable sleep sack for your newborn, perfect for your fast growing little one.
It is great to note that this pattern is intended for newborns who have no interest in tiny things (like buttons) yet, it is best to replace the buttons with chains as your little one grows and gets interested in shiny little things.
Skill Level
Intermediate
Gauge
11 hdc and 10 rows in 4" square
Materials Needed
Worsted weight (size 4) yarn – Hobby Lobby I Love This Yarn!
Stitch markers
Crochet hook in size J/6mm
Buttons (preferably 3/4″) 
Stitches Used
Ch
Fhdc – Follow this tutorial to learn how to make this stitch. 
Hdc
Hdc2tog – Open this link to learn how to make this stitch. 
Sew
Fphdc
Bphdc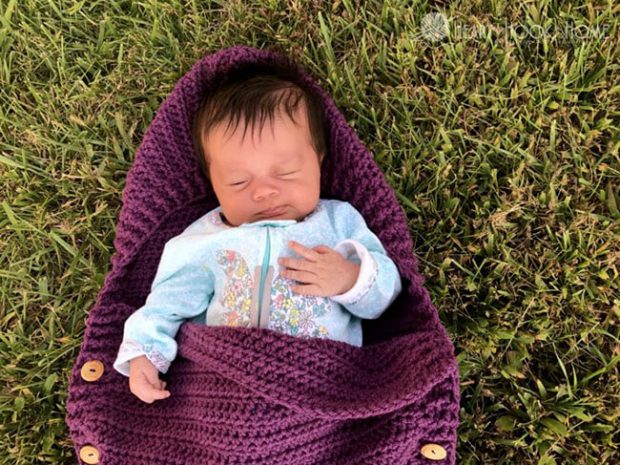 There you have it, mom! A quick and easy newborn sleep sack crochet baby pattern you can make for your lovely little one.
A perfectly adjustable sleeping sack comfortable enough for your little one to snuggle in while he grows! 
Checkout some of these baby patterns you can also make for your newborn! You can make an amigurumi butterfly crochet rattle, or a triceratops crochet comforter, and other crochet baby blankets.
Enjoy your down time and  keep yourself busy making this free sleep sack crochet baby pattern.