The Iris Stitch tutorial is a written and video tutorial on how to crochet the Iris stitch to create a light and airy fabric with a beautiful drape easily.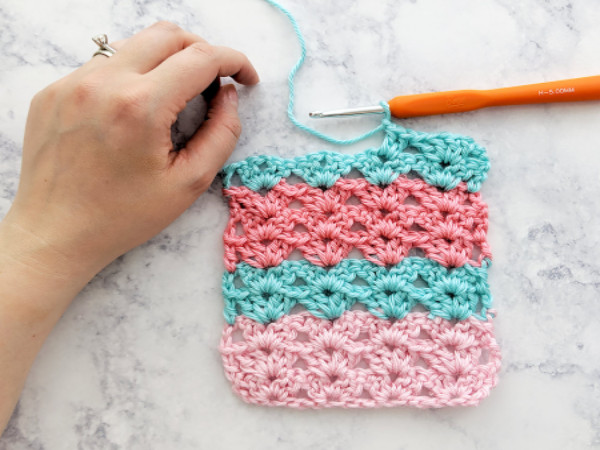 Mastered your basic stitches? Need to liven crocheting a bit but don't want overly complicated new stitches? The Iris Stitch is a good stitch for crochet beginners to step up from their basic stitches!
The Iris Stitch is simple and easy to memorize. There is only a one row repeat and beyond the foundation row, all your stitches are placed in spaces and not in a stitch.
The Iris Stitch is so easy once you get the hang of it. You can do it during your idle time like waiting for your dinner to cook or when you just need another thing to do like crocheting while watching television.
MATERIALS TO USE FOR THE IRIS STITCH
Yarn
5.0 mm crochet hook
Scissors
IRIS STITCH STITCHES AND ABBREVIATIONS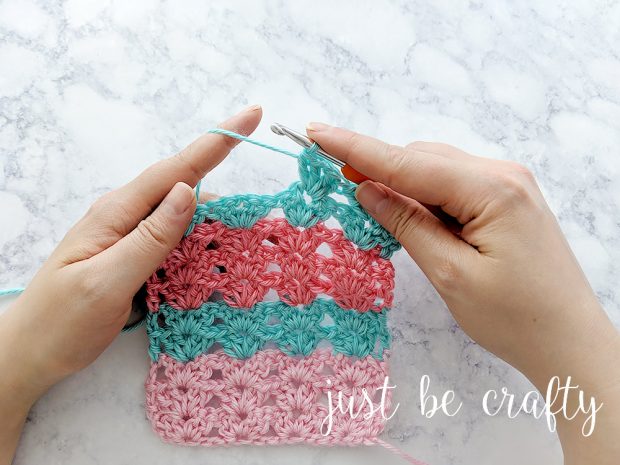 CROCHET IRIS STITCH INSTRUCTIONS
*The Iris Stitch is worked in multiples of 4 and then add 3 for your foundation chain.  The below pattern makes a sample swatch and not a complete design.

Ch 23

Row 1: In 5th ch from hook (2 dc, ch 1, 2 dc), *sk 3 ch, (2 dc, ch 1, 2 dc) in next chain; then repeat from * until 2 chains remain, sk a ch, dc in last ch; turn.
Row 2: ch 3, *(2 dc, ch 1 , 2 dc) in the next ch 1 sp; repeat from * to the end of the row, make a dc into the top of the turning ch from the previous row
Repeat Row 2 until you reach your desired length.
IDEAS USING IRIS STITCH
The Iris Stitch can be relaxing indeed once you get the hang of it. Brittany from Just Be Crafty describes it as something perfect for spring because it produces a light and airy fabric. Not only that, but it also adds a feminine touch because it comes under the fans and shells category of crochet stitches.
Want to make your basic stitches a little more interesting? Add the Iris Stitch as an accent in your next project!