The Reindeer Crochet Dog Hat Pattern is a reindeer-designed snood for your furry best friend to don on. A piece of advice: your dog might hate you for it but I bet you can't resist your dog's cuteness with this!
Dogs are not our whole lives, but they make our lives whole.

Roger Caras
ABOUT DRESSING UP YOUR DOG AS A REINDEER
This Reindeer Dog Snood by ZooSnoods will make your dog stand out in any occasion… even if there is no occasion. The design mimics that of the reindeer from the color scheme to even the charming pink and brown ears and antlers.
The functional dog hat will keep your furry friend's neck and ears warm, protected from dirt, moisture, and cold winter weather.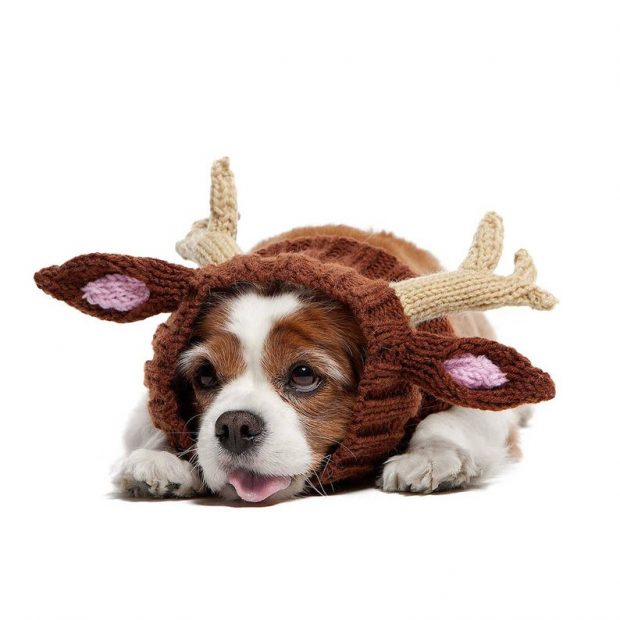 THE PERFECT FIT OF THE REINDEER CROCHET DOG HAT PATTERN
Large dogs that weigh between 60-180 lbs with head circumference measuring between 18-26 inches. The large size fits most large dogs.
Medium for dogs weighing between 15-60 lbs, head circumference between 12-18 inches.
Small for dogs weighing between 5-15 lbs, head circumference between 8-13 inches. The small size can fit teacup dogs and even hamsters!
The pattern comes with a size guide picture: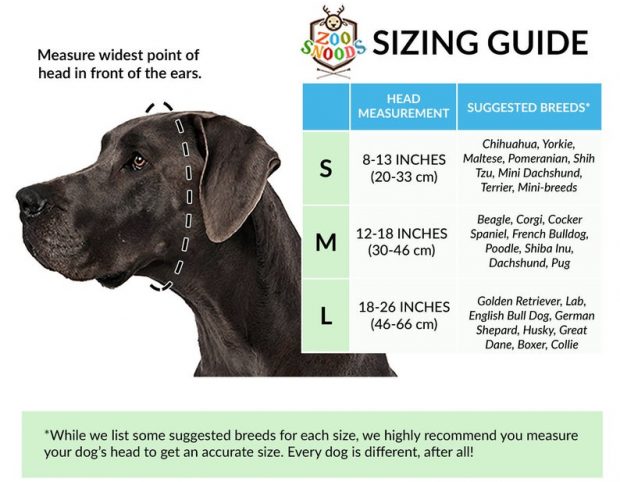 Before starting to crochet, make sure to double check it so that the dog hat will fit your furry best friend perfectly – every dog is different, and head size can be very different for each breed!
BREEDS THAT WILL FIT THE REINDEER HAT
The breeds include, but not limited to, Beagles, Boxers, Cavaliers, Chihuahuas, Corgis, Dachshunds, French Bulldogs, Golden Retrievers, Pitbulls, Poodles, Pugs, Terriers, and Yorkies.
REINDEER CROCHET DOG HAT MATERIAL 
Acrylic Yarn – This super soft yarn is not itchy, your dog will not get allergies from this. It will warm your pet and make it comfortable.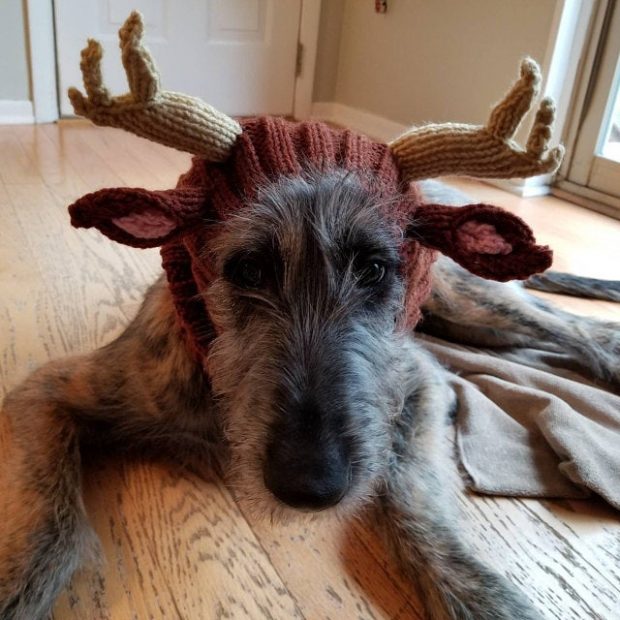 CROCHET DOG HAT SUPPORTS ANIMAL WELFARE ORGANIZATIONS
For every pattern download, not only can you make your dog adorable but also help other animal welfare organizations out there that lend a helping hand to pets that need aid . Definitely stan this pattern for donating $1 for every download!
One review said, "My dog may not love it…. but I do. Looking forward to showing her, and her festive headband, Christmas morning!". This Reindeer Crochet Dog Hat indeed may embarrass your furry best friend, but it will make the Halloween, Christmas or just a dressing up whim worth it!