Dressing up your little one can be so much fun and easy with the help of this Tuxedo Baby Bib Crochet Pattern designed by Darleen Hopkins. It can serve as both formal-wear and a protective covering for your baby's fancy outfit.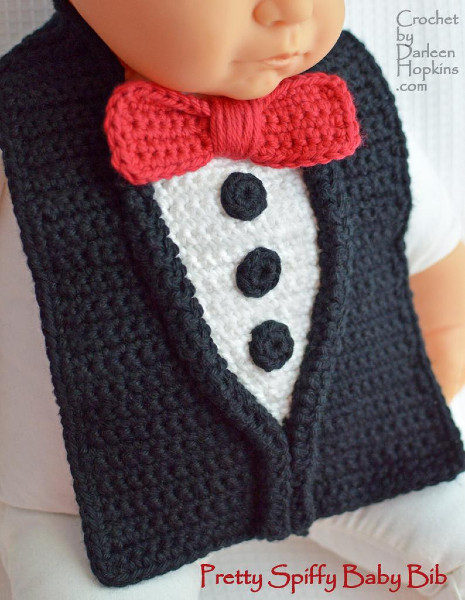 Avoid the worry about getting your baby's outfits ruined by burps, drools and spits. This tuxedo baby bibs will do it's magic by quickly absorbing these unwanted fluids!
Your cute little munchkins can even wear this tuxedo bibs during their first formal events such as weddings, holiday dinners and any other occasions. It keeps your babies clean and spiffy all day long. 
EVENTS WHERE YOU CAN WEAR THE TUXEDO BIB
In styling little ones using this tuxedo baby bib, the only thing you need to put in mind is the casual mix and match colors with their fancy outfit and the kind of event you will attend with your baby.
For formal dinners, holidays and events:
The typical black and white mix. Of course, black is a neutral color that matches all of the other colors. Black shows complete elegance and it could never go wrong for a formal event.
For casual dinners, birthday parties:         
For a not so formal event or a casual type event such as family gatherings, birthday parties. You can go for a different color such as green and white.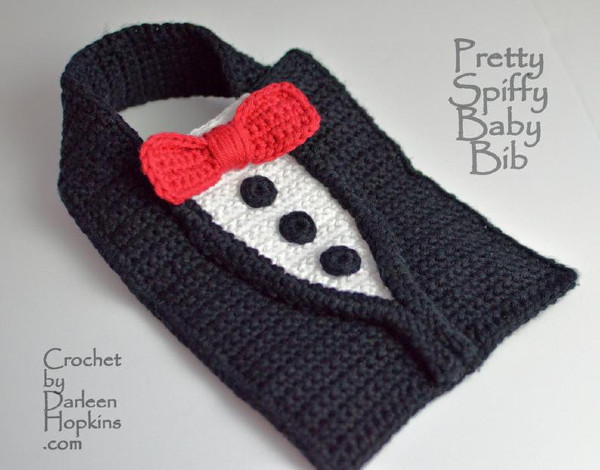 TUXEDO BABY BIB MATERIALS:
Yarn
Specific yarn used is Love this Cotton! It's 100% cotton, 180 yards, 100 grams worsted weight (4): 

White 17 yards [16 meters]/.33 ounces [9 grams]
Black 86 yards [77 meters]/ 1.67 ounces [46 grams], separated into two balls
Red 8 yards [7 meters]/ .15 ounces [4 grams]

Note: It's still up to you on what kind of colors you want to mix and match for your little ones. Don't forget to use soft cotton or cotton blend yarn to keep your baby dry!

Hook

US size G (4 mm) or size needed to obtain correct gauge

1″ square Velcro (hook and loop closure)
Stitch markers
Yarn needle
Matching thread
Gauge

Exact gauge is not that important as long as it's close or almost the same as the stated gauge it will be closed to the stated size.
17 stitches and 18 rows = 4" [10 cm] in single crochet (sc) 
CROCHET BABY BIB MEASUREMENTS
 Approximately 6.5" wide, 7" long plus 10" strap
 
STITCHES USED IN THE TUXEDO BIB PATTERN
You don't have to be an expert in crocheting to make the Tuxedo Baby Bib Crochet Pattern. All you have to know is the basic stitches in crocheting and you're good to go. Here are some of the basic stitches you need to know:
Chain Stitch (ch) – Beginner's guide to chain stitching
Slip Stitch (sl, st)
Single Crochet Stitch (sc)
Half Double Crochet Stitch
Double Crochet Stitch (dc)
Treble Crochet Stitch (tr)