WULF Men's Pullover Sweater Crochet Pattern is a great crochet pullover sweater that guys will love – perfect for outdoor conditions and activities.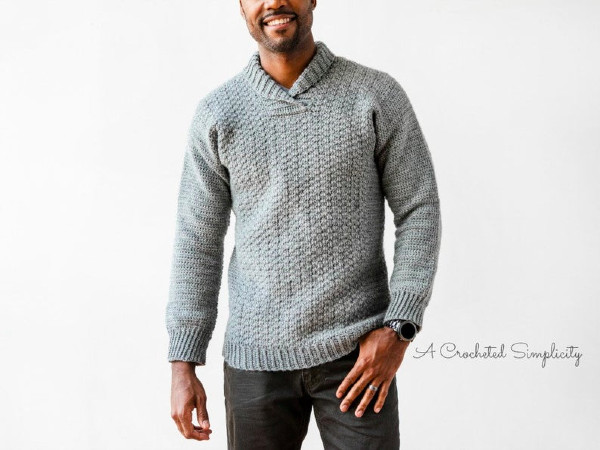 Crochet crafts are starting to invade men's wardrobe. Jennifer Pionk designed the WULF Men's Pullover Crochet Pattern to last long because its dense stitches is as secure as possible.
This outfit is perfect for outdoor conditions and activities – an all-weather outfit that can give comfort and protection for its wearers. Also, it can be paired with slacks, for a dressier look, or with jeans, for a casual aura. Without a doubt, this sweater would be an indispensable part of your wardrobe.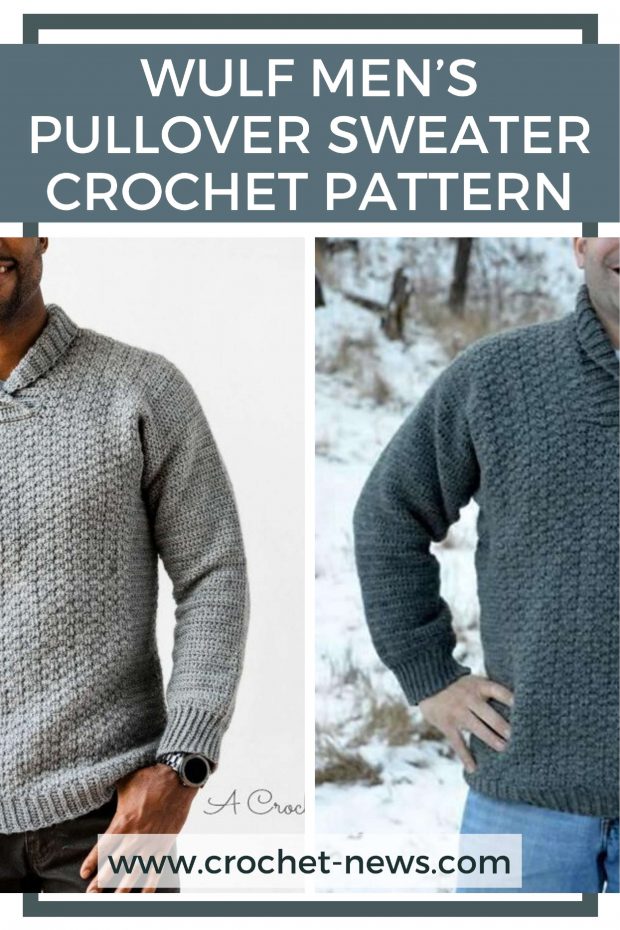 WHERE CAN YOU USE THIS PULLOVER SWEATER CROCHET PATTERN?
This crochet sweater is perfect for the winter season when you need to go out, even with the freezing weather outside. It's a must-have for winter! Also, an added shirt inside would be enough to keep you warm while you're outside the house. 
You can also wear this pullover crochet on casual days, which would be a real head-turner when you walk down the streets.
If you're the type of guy who's too conscious with the sun's rays or from insects, it's thick enough to cover your arms from these hated stuffs. Also, it gives the right protection for both your body and arms.
According to one satisfied customer, the pullover sweater crochet is also perfect for weekend getaways and even for work as well. Talk about an all-day, all-weather outfit!
WHAT YARN NOTES WOULD YOU NEED FOR YOUR PULLOVER SWEATER CROCHET?
Worsted weight yarn (80% Acrylic / 20% Wool / 197 yds / 3 oz / 180 m / 85 g). Note: This is for Lion Brand Wool-Ease 4.

Other lighter worsted weight (4) yarns can be substituted as long as gauge is met.
SIZES FOR YOUR SWEATER CROCHET PATTERN
Pionk wrote this pattern in men's sizes:
Small – to fit chest 34-36″
Medium – to fit chest 38-40″
Large – to fit chest 42-44″
X-Large – to fit chest 46-48″
2X-Large – to fit chest 50-52
YARDAGE FOR WULF MEN'S PULLOVER
Small – 1,450
Medium – 1,550
Large – 1,750
X-Large – 2,000
2X-Large 2,200
ABOUT THE PULLOVER CROCHET PATTERN
The WULF Men's Pullover Sweater Crochet Pattern is a tested pattern by accomplished pattern testers and designers. It includes a stitch chart for the textured front, schematic and a step-by-step photo tutorial for complicated parts. Pionk gave additional instructions for sleeves and torso lengthening.
Crocheters need to work the sweater from the bottom up. Only the shoulder parts need seaming. For the sleeves, they are worked from the armhole to the cuff. The collar is added last.
WHY SHOULD YOU TRY THIS SWEATER CROCHET PATTERN TODAY?
The pullover sweater crochet is great because it can be an all-weather outfit that you can use every day, whether on work or walking in a park. Also, satisfied customers praise its easy-to-understand pattern. 
With the easy to follow pattern, there's no reason why you should put off this day trying out this awesome WULF Men's Pullover Sweater Crochet Pattern. You'll never know how good it feels to stitch your own outfit until you try it!